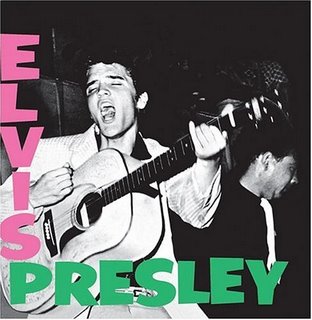 It's the 50th anniversary of Elvis' first album. To honor that event I thought I'd take a trip down memory lane and review one of the most celebrated albums in rock history. In fact you might just say that rock history begins at this exact moment.
And if you did, you'd be right.
When we think of history, we tend to think the way things turned out was a forgone conclusion. Since the Allies won WWII we downplay all the near misses and lucky breaks that made the war go the way it did.
While not exactly on the scale of a world war, the career of Elvis is often seen in the same light. How could anyone not see he was destined to be the best-selling recording artist of all time?
Well things were not quite so clear in 1956. Elvis, skillfully managed by Colonel Tom Parker and gaining a growing following from a rigorous tour schedule, especially in the south, was looking to leave the small record label where he had been recording singles, Sun Records, for a larger studio and eventually landed a deal with RCA.
Parker was a ruthless negotiator and the deal was a great one for his client, and other studio executives felt that RCA owner Steve Shole had committed a blunder in signing the relatively unknown singer to such a deal. The secretly referred to Elvis as "Sholes' folley".
Even more controversial was Sholes' decision to place Presley in the studio to record a full length album. The teenagers his style of rock appealed to didn't buy albums, they bought 45s.
That album, titled,
Elvis Presley
, started off with a little track called "Heartbreak Hotel", the song that would also be the first single off the album. This track started slowly but by the end of the year, following a series of appearances booked by the tireless Colonel Parker on TV variety shows, the album began to move up the pop charts.
Following a string of successful appearances on the Dorsey shows, Elvis was booked to a performance on the Milton Berle show in which his hip gyrations caused a storm of controversy. Controversy is always good, especially a sexy one and multiple singles began climbing the charts from Presley's debut album.
Very shortly, "Heartbreak Hotel" was the #1 song on the charts, the first of Presley's 100+ #1 singles. The album that was considered such a risk was the first Rock album to reach #1 on the chart's and RCA's first ever album to generate more than $1 million dollars in earnings (something it has since done many, many times over).
The rest, as they say, is history.
Track Highlights
Track 1, "Heartbreak Hotel", it's impossible not to like to this song. Even today it sounds like nothing else, with sparse instrumentation, Elvis has nowhere to hide. Fortunately hiding wasn't his style and he carries the track brilliantly with a delivery we take for granted today but which was unheard of in 1956.
Track 3, "Blue Suede Shoes", another legendary track and another song we take somewhat for granted today because it sounds like so much of the classic 50's rock we've heard everywhere from period films to the Happy Days tv show. Of course all those songs we've been listening to for 50 years by Roy Orbison and thousands of other performers were likely imitating this track.
Track 9, "Tutti Frutti", one of the things that set Elvis apart early in his career was his willingness to sing the songs of African-American performers and his ability to do them right. Here we see Presley doing a great rendition of the Little Richard classic. Many white radio stations in the south refused to play this track and others like it at first, thinking from his voice that the performer was black.
Track 10, "Tryin' to get to you", among Elvis' many strengths, as touched on above, was his ability to perform so many styles and impart his trademark style onto them. Blues, Soul, Pop, Rock, Country and Gospel were just a few of the genres he had chart-topping hits with. It added to his appeal and made his albums infinitely listenable since they encompassed such a wide range of music. This track is a great country number and one of the tracks from this album to receive wide play on country radio at the same time tracks like "Heartbreak Hotel" were dominating the rock radio airwaves.
Track 14, "Blue Moon" another standard from this debut album, this Rogers and Hart ballad showed yet another side of Evlis' range and foreshadowed the numerous hits he would have singing ballads and torch songs later in his career.
Track 15, "Shake, rattle and roll", this Charlie Calhoun classic was considered far to sexually charged for radio or television of the 50's with lines like "the devil in nylon hose", "you make me roll my eyes, baby make me grit my teeth", and "you wear those dresses, the sun comes shining through" was turned into a hit by Bill Haley and the Comets, using a santitized version of the lyrics and a less bluesy more pop-rock arrangement.
Elvis uses Haley's radio-friendly arrangement but his single uses the original, bawdy lyrics.
Conclusion
The original 12 track album is an amazing accomplishment, one of the greatest first albums ever recorded. The version issued by RCA today is even more stellar, with DSD remastering that sounds like it was digitally recorded in 56 and 6 tracks that were only released as singles in 1956 and not included on the original album.
Grade:
A+